Are you looking to learn more about the horse and human connection? Or develop yourself through natural horsemanship? Do you want to help your (young) horse be more relaxed and confident? Or do you want to improve yourself as rider? Is your dream to develop a well-balance and healthy, strong, supple horse through dressage training?
We have lots of different learning formats. Before you start learning, Elena will ask you about your goals. You can have a look at the different areas of development for you and your horse here below.
On line groundwork: this is where everything begins. You can learn the ABC of communicating with horses from the ground through the use of a halter, lead rope and a carrot stick. Online groundwork is a great way to keep your training progressive and varied. You can develop this into teaching your horse to for instance jump over obstacles, go into the trailer, or learn gymnastic exercises such as sideways movements. Groundwork is also great for problem solving: teaching your horse to stand still while mounting, picking up their feet for the trimmer, accepting the saddle, being tied safely…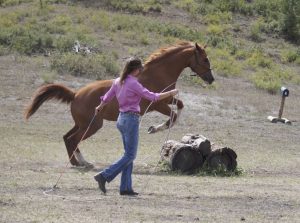 Liberty training: Once you take off the halter there is only one thing left: the truth! If you have taken the time to develop a partnership through trust, respect and a common language, liberty is a beautiful test of your horsemanship. You can start from the very basics such as walking next to your horse, and develop this up to having your horse circle around you in canter in a wide open field… this is what magic is made of!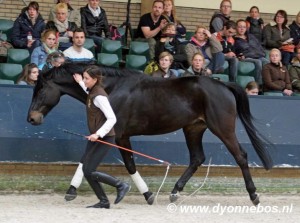 Freestyle and bridle-less riding: the goal here is to be able to ride without the use of the reins. As a rider, you will learn to feel your horse's movement and become aware of how and when you can influence it with your basic aids: a stable seat, your weight and your legs. Your horse will develop an independent posture and listen to your subtle cues: bridle-less riding is the ultimate test of trust!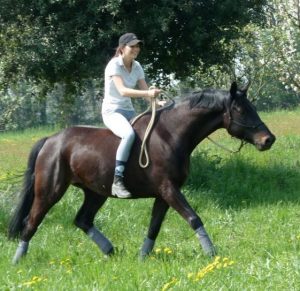 Dressage training: The goal of dressage is to gymnastically train the horse. As horses are not naturally made to carry a rider, it is our job to train them to be strong and well-balanced enough to carry us. Your horse can develop their posture through the light connection that is achieved through contact. The secret is in the basics: is your horse in balance? Through dressage maneuvers you can develop your horse physically into a healthy and balanced ride, and learn about the value of exercises such as shoulder in, half-pass, pirouettes or walk-canter transitions.
Dressage training can also be done from the ground:
Work-in hand: from the ground, walking next to your horse. We will start with basics exercises, but you can develop this into an art to teach your horse counter-canter, lead-changes, pirouettes and piaffe!
Long reining: this is a great way to both prepare a horse for riding, or even carriage driving! In long reining you will stand behind your horse, and this can be a great way to work on balance, and suppleness.
Lounging: this is way more than moving your horse in circles. With lounging you can work on gymnastic exercises and balance in all three gaits. Your horse will have the chance to develop relaxation, balance and strength without the weight of the rider.
Double longe: this is similar to lounging, but you will have the advantage of having an outside rein.
Jumping training: whether you are just starting with poles on the ground, cavalletti or taller, thinner jumps, this training will help to develop your horse mentally and physically. Have you ever thought about having your horse take you to the jump, in a calm and collected way? Through obstacle training you can increase your horse's confidence and teach them to love jumps!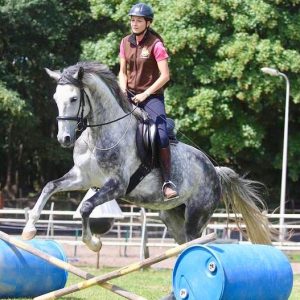 LEARNING FORMATS CAN ALSO INCLUDE:
Live demonstrations (education and inspiration)
Half day or full day 'horseless' workshops (theory + demonstration with horse + simulations)
Half day or full day workshops (theory + small group lessons)
Lesson, workshops & weekend courses at Riverland Horse Farm
Please contact Elena directly for more information or to organize a workshop!
Are you curious about what horsemanship lessons look like? Take a look at students lesson in a collage of pictures: https://www.youtube.com/watch?v=goOGlC8p9sk&t=87s