I have had a passion for horses since a very young age. Beginning to take my first riding lessons at the age of 9, I eagerly started to spend time at local riding schools in Italy, Switzerland and the United States. Very soon I developed a love for Dressage and started competing at shows in Italy at the age of 12. Under the guidance of an experienced horse, my very first show partner, I went on to winning the Italian National Dressage Championships in year 2004.
I continued to compete for a couple of years until my horse Orianda came along. Because of her strong and dominant character I was led to search for a method that could teach me how to handle her on the ground and found Parelli Natural Horsemanship. My horse and I changed together into what previously could have only been true in my dreams!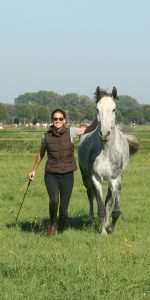 Through the years I had the opportunity to study with some great athletes, trainers and riders to increase my knowledge and experience. Attending clinics from dressage masters such as Walter Zettl, Philippe Karl, dressage naturally founder Karen Rohlf, Thomas Ritter and Italian show jumper Luca Moneta are some of the experiences that have shaped the way I see horse training. During my training in becoming a Parelli Professional, I had the chance to spend some very precious learning time at the Parelli Center in Pagosa Spring, Colorado for 4 weeks in 2010 and 12 weeks in the Summer of 2012.
In 2013, after receiving my certification as a 2* Parelli Professional I moved from Germany to The Netherlands. Here I earned a graduate degree in the field of Social, Health and Organizational Psychology, and I currently work as a researcher at Utrecht University. At the same time, using as a base our horsemanship center in Benden-Leeuwen I am also enjoying the opportunity to teach students and their horses by following the principles of love, language and leadership to build a harmonious partnership.
I look forward to enhancing the partnership between you and your horse!
Elena