NATURAL HORSEMANSHIP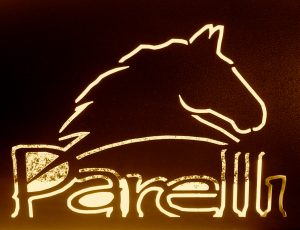 A natural approach to horse training
The Parelli Program of horse training teaches expertise and success with horses based on the way horses relate and communicate in their natural world, hence the term "natural horsemanship".
Based on respect for and love of horses by understanding horse nature and psychology the Parelli program enables anyone at any level to have fun with horses and achieve amazing results naturally.
The Parelli program allows horse lovers of all disciplines to achieve success without force, a partnership without dominance, teamwork without fear, willingness without intimidation, and harmony without coercion.
To know more about the Parelli Program visit http://www.parelli.com/
Do you know the SEVEN GAMES? check this page to see what this is all about, or just to have a review: http://www.parelli.com/the-seven-games.html
---
As a Parelli Professional I make a promise to every student I have the opportunity to teach.
My promise to you, the student!
The Parelli Professional Promise:
Relationship First
I promise to put my relationship with you, my student, first.
And I promise to help you put the relationship with your horse first.
Rather than perfecting the task we will care more about
confidence, trust, motivation and willingness as true horsemen do.
Foundation Before Specialization
I promise to help you become well-rounded in your savvy
both on the ground and riding, within my skill set and licensing;
to prepare you for success at every level
to read your horse, understand his Horsenality and develop your savvy skills On Line, at Liberty, in FreeStyle and Finesse.
Never-Ending Self-Improvement
I promise to inspire and support your quest for never ending self-improvement.
The Parelli Pathway will guide you to success and help you measure your
progress every step of the way.
---
To learn more..You can become a Parelli SAVVY CLUB member!
Each month you will find articles, podcasts, videos, problem-solving tips, and more!
https://parellisavvyclub.com/